Water Intrusion in Basements
Water intrusion in your basement can lead to health concerns and thousands of dollars in structural damage. Whether it results from heavy rains and flooding, burst pipes due to freezing, or a slow leak from an appliance hookup, that water needs to be dealt with quickly.
The best way to handle water intrusion in a basement is to prevent it from ever happening. Ensuring your home has adequate drainage and other mitigation measures in place will greatly lessen the likelihood of you having to face the results of flooding in your home. However, if you're already seeing water seeping in, there are steps to handling water intrusion.
How to Choose a Flooded Basement Solution
Whether you've just noticed a few damp spots or are seeing standing water in your basement, you need to take time to understand the problem so you can address it the right way. Start with these steps:
Safety first: Before you do anything else, ensure the area is safe — electrical hazards and contaminants can lurk in standing water.
Evaluate the situation: Determine the extent of the water intrusion. Check every area of the basement and take note of where you have dampness or visible water.
Identify sources: Can you tell where the water is coming from? Is it near an appliance or fixture or does it seem to be coming in from outside?
Document and photograph: Before cleaning up, take detailed photos and document the extent of the damage — you may need this information for insurance claims and to inform contractors that will help solve the problem.
Decide what to do: While minor issues might be addressable with DIY solutions like redirecting downspouts or sealing cracks, significant challenges warrant expert intervention to prevent future flooding.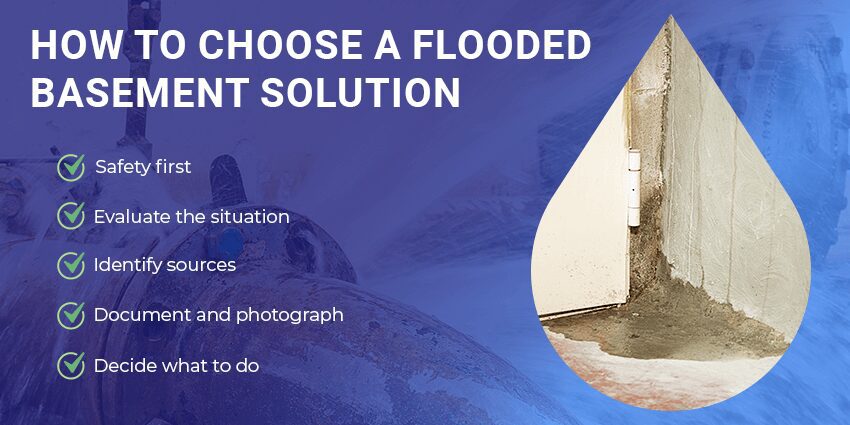 Make a Plan to Prevent Basement Flooding
The best water intrusion solutions start with prevention. Here are a few ways to keep your home dry:
It's also wise to review your homeowner's insurance policy and confirm whether you're covered against interior flooding.
Hire a Contractor for Water Intrusion
When it comes to water intrusion, the right contractor can make all the difference. At Rain Pros, we stand out as industry leaders. We offer proven expertise in diagnosing the root cause of the water entering your home, and we can perform a wide range of interior and exterior services to correct and prevent the issue.
Contact the Rain Pros team today for more on our water intrusion solutions.