Tips for a Successful Spring Start Up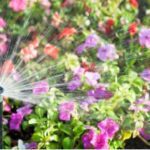 As we are entering spring with freezing ceasing, it's time to turn on your irrigation systems and start watering again.  It's always best to hire a professional to turn on your system, check for damage, and repair as necessary while adjusting coverage to maximize efficiency. Give us a call to get on the schedule to turn your system on so it is ready when summer arrives.
Tips for A Successful Spring Start-Up: Please check the functionality and coverage of your sprinkler start-up within 30 days of the service.  Follow-up service calls will incur an additional expense per the general service agreement.
Here are a few tips for a successful when scheduling your Spring Start-up: 
Remind us if you know you need to be home for access purposes
Remind us if you have a pump-based system 
Let us know if you have a gate code and provide it if you will not be home
We will provide a 4-hour window of expected arrival time, with a couple of days notice 
Inform us if you need more than 1 hour of service (10 zones or more)
Helpful tips for a successful Spring Start-Up prior to your Visit:  
Unlock gates for backyard access
Uncover all sprinkler boxes or let us know if the location is unknown 
Make arrangements for outdoor pets if necessary
Bypass the rain sensor if you will not be home during the visit
If you have a Rain Machine controller, reply with the network password
If you have a Rachio controller, share access via customerservice@rainpros.com
If you have a Hunter Pro HC/Hydrawise controller, we should have access or are currently monitoring your system already.
You have 30 days from the date of the initial visit to inform Rain Pros of concerns you believe you be covered under warranty